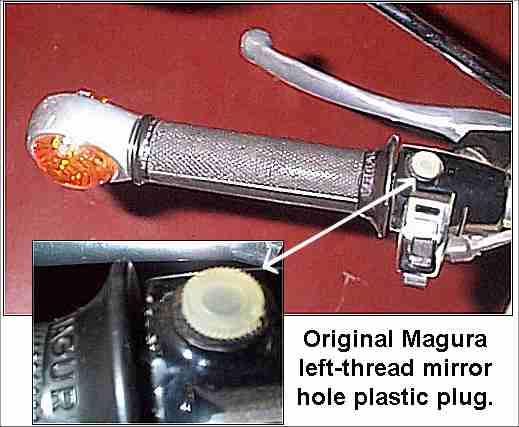 When I got my 1968 BMW R50, of course I wanted to know every tiny detail about the machine. The left-thread hole in the Magura clutch assembly puzzled me. My bike had nothing there. I saw bikes with black plastic grommets in the hole. I saw screws in the hole. What was correct? What was originally in that hole if the bike owner didn't install a left-thread mirror?

I asked a well-known bike judge what was originally in that hole. He told me that dealers put anything they could find that fit into that hole. He did say it was usually a plastic plug. I later learned that bike judge wasn't 100% correct.

On our way to vend, Vech and I stopped by Magura to examine their unidentified stock. We wanted to see if any of it was for antique BMW motorcycles. About the only thing we found was an original Magura clutch assembly, still in the box. When we opened the box, we saw the plug. It wasn't something installed by dealers to fill a hole. That plug is an original part from Magura. The plug is no longer available. At last, I discovered the correct answer to my question.