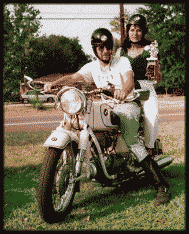 Vech and Elaine at the first annual "Sturgis Rally" (1997 - Sturgis, Mississippi) Elaine shows off Vech's trophy. Vech won first place in the slow race two days after completing the R26 restoration job.
At the Wilderness Rally, in Arkansas, several years ago, Vech used the bike to gather logs for a fire. He tied a rope through the hole in the rear axle and pulled fifteen-foot pieces of driftwood down the gravel bar, and up the riverbank, to the camp site.

On pavement, the R26 in first gear, is wound out in about 15 feet. Given enough time, flat ground and no headwind, on the highway the machine will run about 80 mph wide open. Surprisingly, it will maintain 60-65 mph on modest hills, solo.