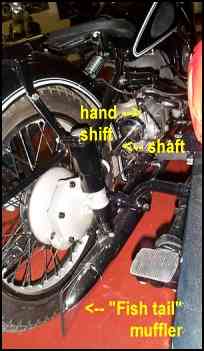 R51/3s with serial numbers from 529380 forward should have been fitted with rubber fork boots. The R51/3 had 68mm bore, slightly domed five-ring pistons. Piston failure usually involved the skirt, a weak point in these machines.

Pre-1955 BMW motorcycles had an auxiliary hand-shift lever attached to the right side. It was useful primarily as a neutral finder. They had a beautiful chrome-plated, exposed drive shaft located on the right side of the frame. After 1951, all transmissions had a neutral light switch incorporated in the mechanism and connected to a green indicator bulb in the headlight shell. The single dry clutch plate design was actuated by cable and levers.

The R51/3 had fishtail mufflers on which the fishtails were of unequal length, with the lower one being longer. They were nice to look at, but the lower fin gained a reputation as an "ankle biter." By mid-1951, the lower fin was trimmed back to resemble the upper fin, both for reasons of aesthetics and as a safety improvement.

My LS200 is a Steib original, but Steib produces excellent reproduction sidecars and the reproduction parts fit all original Steib sidecars. I'm a sidecar set-up specialist and a dealer for Steib stidecars and parts. Check out The Steib Sidecar Store.