How to Convert a 1960-1969 BMW Motorcycle Hydraulic Steering Damper To a Friction-style Damper

by Craig Vechorik
---
Reasons why one would want to change a hydraulic steering damper to a friction damper:

1. The complicated linkage system of the hydraulic damper has developed excessive play due to wear and it has become ineffective.
2. The hydraulic damper cylinder has leaked oil and is no longer functional. (The cylinder is not currently available as a replacement part.)
3. You wish to fit a sidecar on a BMW motorcycle that has a hydraulic damper. The change to a friction-type damper is very important to allow for proper steering adjustment.


The actual removal and installation of parts is easy and very straight forward. See the parts diagram that follows. If you need further assistance, check our hours of operation and I'll be glad to talk you through it.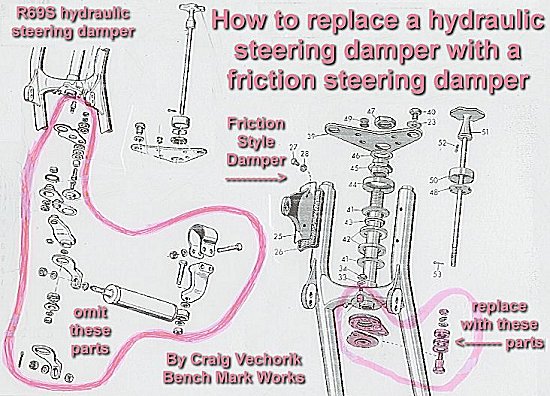 The following parts are required. You can click the link now to create a secure order form to order the parts from Bench Mark Works LLC. The attachment nuts, bolts and washers are stainless steel. We accept Visa, Discover, American Express and Master Card.

DAMPER CONVERSION KIT: R69S hydraulic to friction-style
Kit 044 on our Bolt Kits page
07 11 9 932 090 --quantity 1--wave washer 8mm ss
31 42 2 000 255 --quantity 1--damper anchor bolt R51-R60 ss
07 11 9 923 414 --quantity 2--castellated nut 8x1.25 ss
07 11 9 931 065 --quantity 1--flat washer 8mm ss
07 11 9 931 851 --quantity 1--washer steering damper stepped bolt ss
31 42 2 000 257 --quantity 2--damper anchor rubber R25/2-R69S
31 41 2 000 295 --quantity 1--steering damper bolt
31 41 2 000 231 --quantity 1--damper thrust plate R26-R69S
31 41 2 000 217 --quantity 1--damper resistance plate
31 41 2 000 235 --quantity 2--damper friction disk
07 11 9 949 213 --quantity 3--copper rivets
07 11 9 945 111 --quantity 2--cotter pin

Please visit our complete on-line store.

Back to Tech Articles