Innovations and/or New Groovy Stuff
---
Contrary to popular rumor, Bench Mark Works is not closing!

We're still here!
We're still adding parts!
We still give free technical advice!
For how long? Until we die!
Parts 1950-1983 and some prewar!

We still provide service for engine, transmission, final drive, brakes, and build wheels

Betjeman R26-R27 Restoration Book006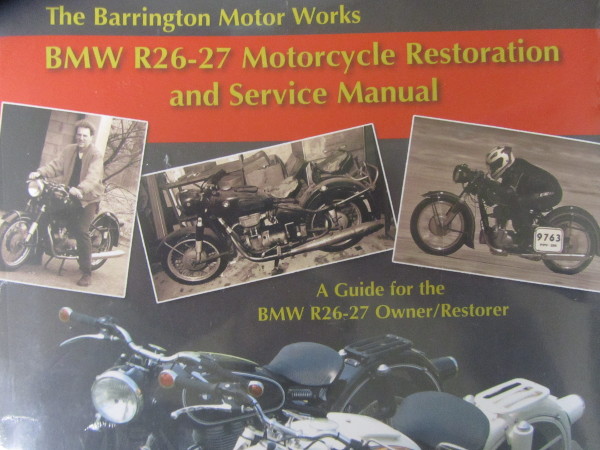 ---
Replacement ignition switch, 51 25 1 233 276 /6 4 position, 51 25 1 243 273 /6-R100RT 2 position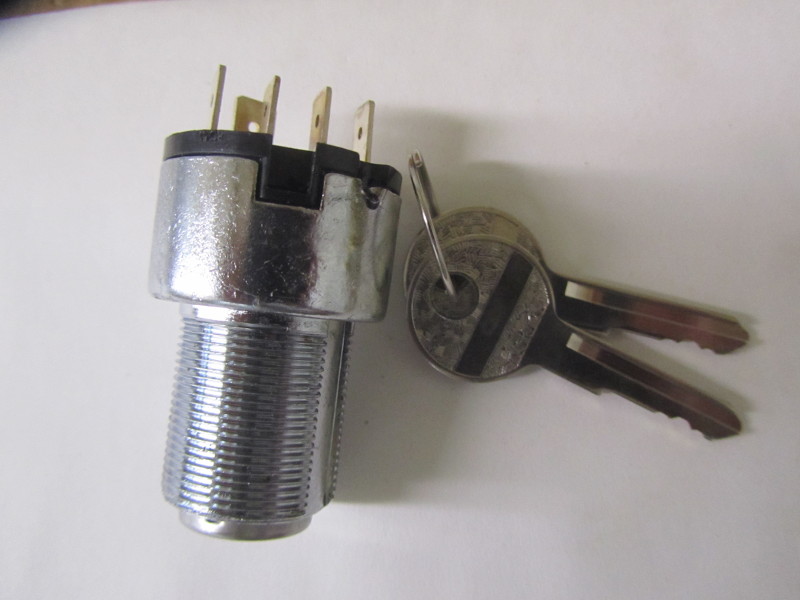 ---
Replacement gas cap R60/7-R100MYS, 51 25 2 030 125.m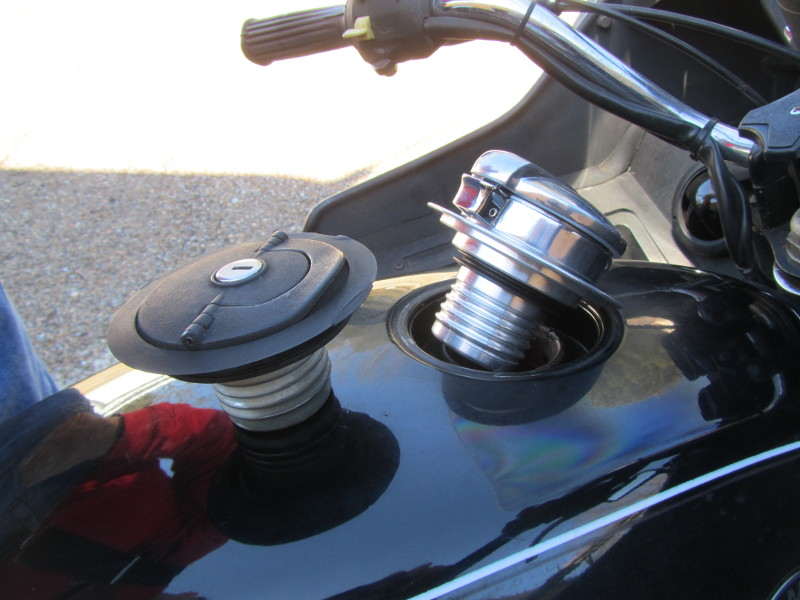 ---
Eber Replacement LED board; for all Eber tail lights, 6 volt or 12 volt. Requires removal of incandescent bulb holder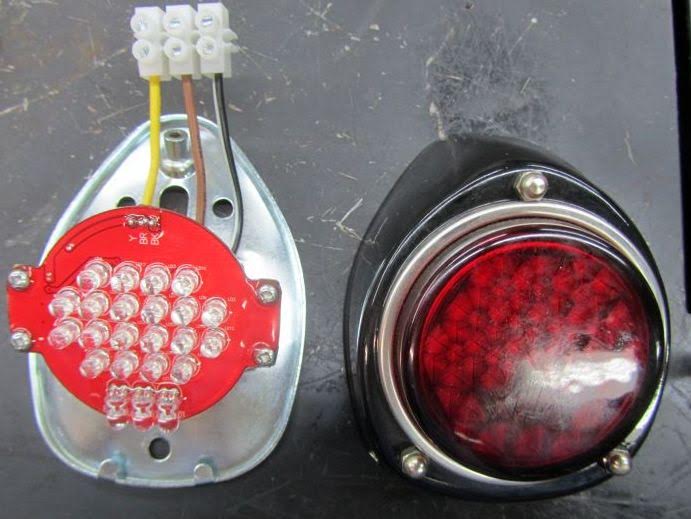 ---
Accessory 24- .95 cents, NO-OX-ID anti-corrosion conductive grease for connections and bulb bases, 7 gram tube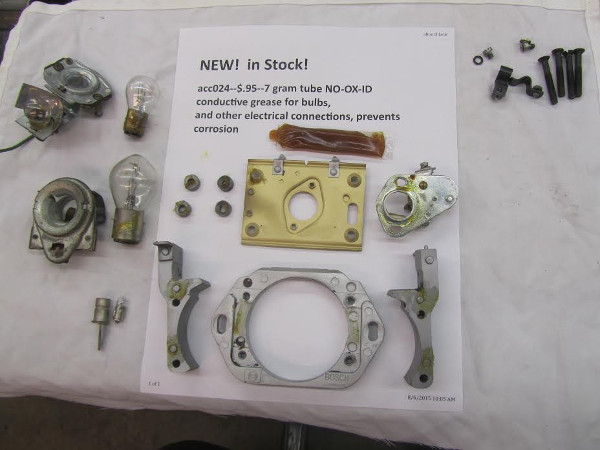 ---
Made in Europe Enduro bags set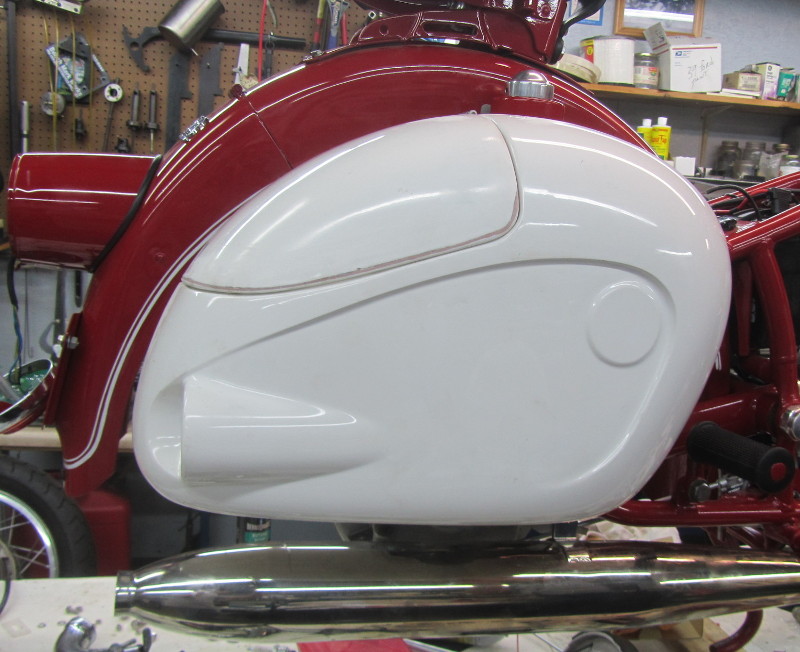 Unpainted, with mounting parts, locks and lights - Accessory014 $838.25

---
New production! Albert Sport bar end mirrors set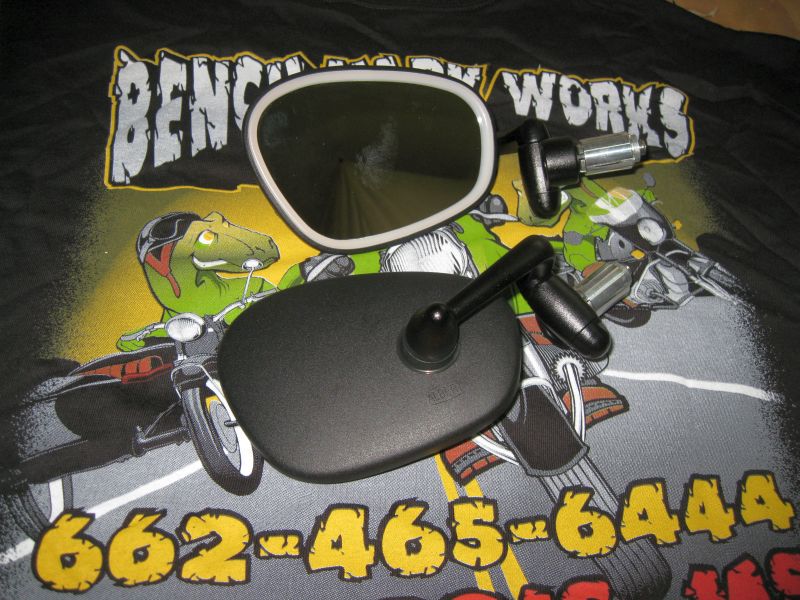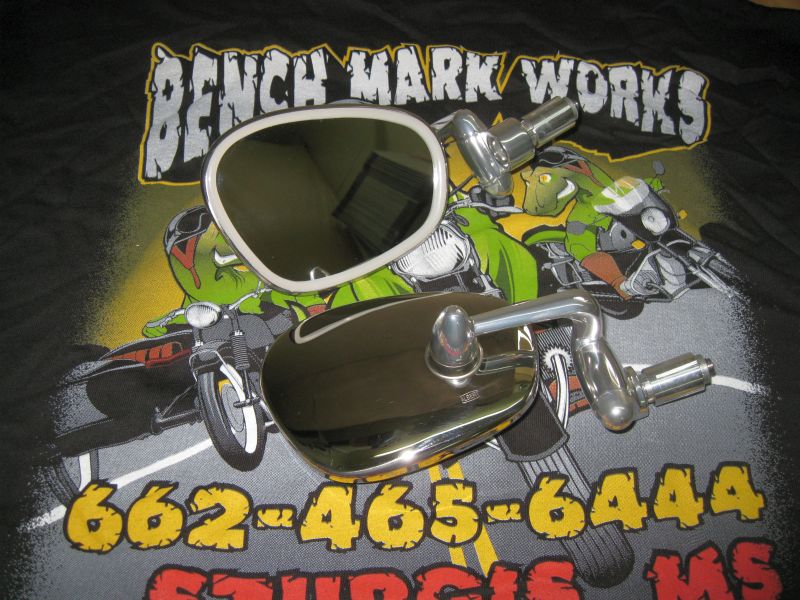 Available in stainless and aluminum (acc013b) or original black (acc013a) finish.
---
Plunger frame restoration book!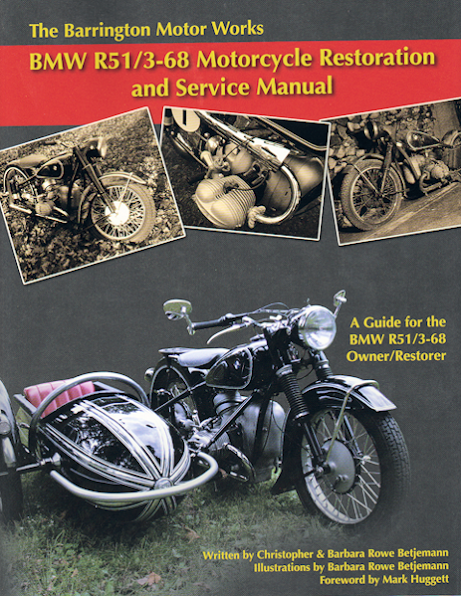 book004 -- BMW R51/3-R68 "Motorcycle Restoration and Service Manual," by Chris Betjemann
This new restoration and service manual is the most comprehensive study of the BMW R51/3 through the coveted R68 models ever written.

The amount of changes during the 5 year production of these machines is astounding. It was if BMW could never quite decide what was best, and made many rapid changes in that 5 years. To all you vintage buffs out there, did you know that:

Six different frame variations

Three different petcocks used and each one has the technical drawing in the book!

Two different headlight shells with different main switches

Two different forks with two variants of each and two different steering dampers.

Two different wheel half hubs and three different full hub designs.

Four different steel wheel rims

Two different aluminum wheel rims

Three different generators

Six different air cleaners

Multiple headers and mufflers

Twelve different forward flywheel sections

Three different transmissions

Three different transmission output flanges

Three different variations of Eber tail lights

Five different variations of front fenders

Ten different variations of rear fenders

Fourteen different variations of speedometers


All of this is covered in the book, plus more! Not only is all this historical material present, but step by step procedures for completely disassembling and re assembling the entire machine with photos of special tools that are required. The manual consists of 582 pages, with seventy original line drawings, and 570 photographs.
---
New production suspension bands!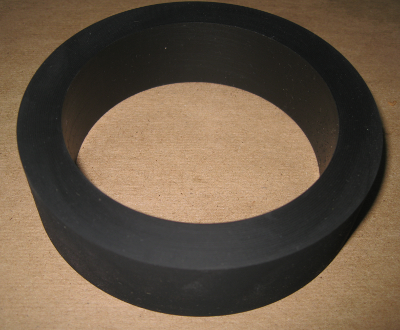 /
S 103 Z 46--side car body suspension band for LS200 S250 TR500

This is NOT the European molded, one piece incorrect suspension band. We had these reproduced from an original, and is manufactured in the same manner as the original, being constructed by using one long wound rubber strip, and the layers bonded together. These are of the correct dimensions, elastic, and very strong! And cheaper than the worthless European ones that prematurely break!
---
New Part! Plug cap boot, cap sold separately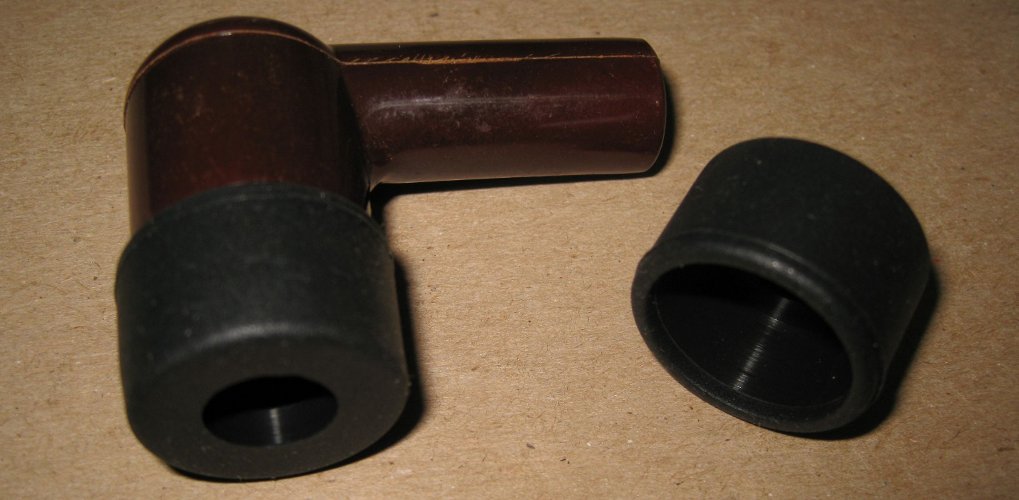 12 12 8 036 106 -- Rubber boot for spark plug cap, R24-R69S
---
New Production! /2 Weld-on centerstand mounting tabs, left and right!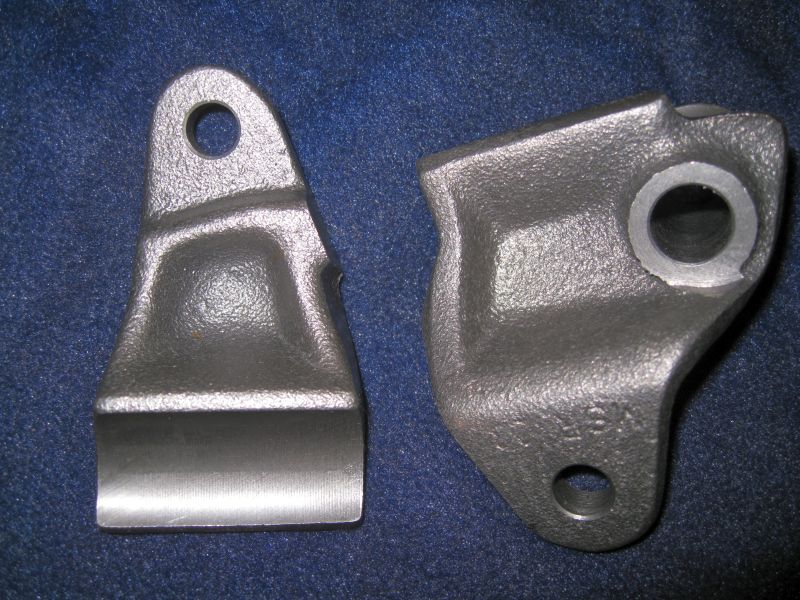 Are both wheels still on the ground when you centerstand the bike? Is the bike falling over on anything but level ground? Don't cut up an old frame! New production centerstand mounts are now available!
Left: 46 24 5 161 034 and Right: 46 24 5 161 035
---
Noris Brand Battery 6v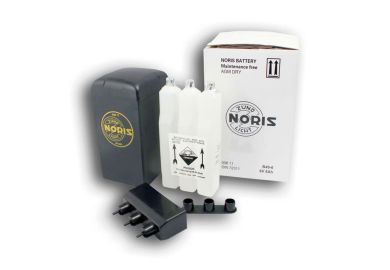 NEW! Available in September 2012, 61 21 8 042 025S -- NORIS brand battery original style hard case with lid square base sealed Maintenance Free! 6 volt 8a 1925 -1958 BMW singles and Twins dimensions 6 7/16x3 5/8x3 3/16 inches, 92x82x166mm. This is a maintenance free AGM battery.
---
/2 rear upper shock cap tool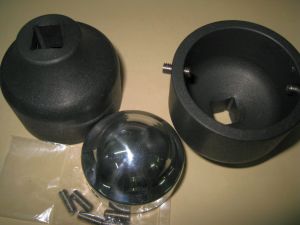 Tool034 - This removes stubborn aluminum upper shock caps from the rear shock shaft. Install it on the cap using the two set screws, then spin with a 3/8 inch drive air impact tool.
---
Upgrade starter motors for BMW, 1970-1976 (8 tooth) and 1977-1995 (9 tooth)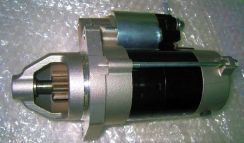 12 41 1 357 500R - Nippondenso replacement/upgrade starter 8 tooth, 1970-1976
12 41 2 306 700R - Nippondenso replacement/upgrade starter 9 tooth, 1977-1995
These drop-in starter motors, originally for Toyota trucks, are mated to a new case and drive gear for BMW engines. An improved design allows approximately 30% to 35% less amperage to operate. Sturdy, rebuildable and with no glued-in magnets, they have half the weight of the original starters. No rewiring or modifications are required.

---
Albert bar end mirrors, solid stainless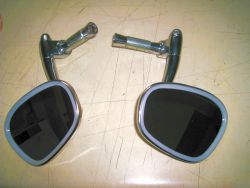 ACC202 - mirrors mount in the end of the handlebar.
---
---
---
Matra tools, pinion seal collar wrench for final drive nose

Tool029, /2
Tool033, /5/6/7
---
Back in production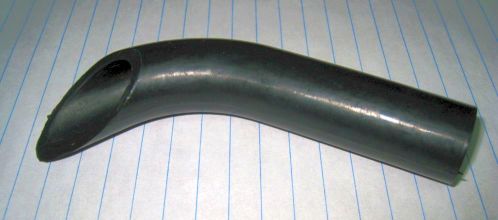 Rubber crank case ventilation tube /5 /6 original type
---
New stuff

Click here for our tool section.

Tool030, Matra 499 crank gear puller

Tool001, Matra 338 exhaust nut pin spanner, laser cut, highest quality

11 43 0 009 127.3, original manufacture oil centigrade thermometer dipstick, /2

Tool031, Matra 422A flange puller for R51/2-R68 transmission

Tool032, Degree wheel, exact duplicate of factory originals R24-R27 R51/3-R69S
---



We are now a dealer for German Heidenau tires!

Click for the tire section

Tire002 3.25"x19" front/rear universal pre 1955

Tire004 3.5"x19" front/rear universal pre 1955

Tire009 3.5"x18" post 1954 R50-R69S

Tire010 3.25"x18"post 1954 R26-R27
---
New Magneto Timing Indicator!




Close up:

Close up:


Solid state Magneto timing indicator now available.
Set timing on your magneto ignition BMW WITHOUT removing the points wire!
Open/Closed LED indicators and audible tone when the points open.
Unit uses electronic inductance to signal when the points break.
Compact design, 3 1/8 wide x 5 1/2 long x 3/4 inch high.
Comes ready to use, with replaceable 9v battery.
Vech's favorite timing tool!
Thanks to Chris Betjemann of Barrington Motor Works for turning us on to this tool.

In our online store:

Tool 028--solid state magneto timing indicator


---
Parts I bet you didn't know we had!
The Importance of Clean BMW Oil Slingers by Craig Vechorik
It is very important, when you acquire your restoration project, to tear your engine down, and clean the oil slingers.

You have two choices here:
1) buy the tools, a torch, a book, and learn to do it for yourself, or
2) farm out the project someone who has both the tools and the skill. Either way, it 's important to get it done.

Why is it so important? Read more.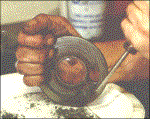 How to Pack a BMW Motorcycle Engine

by Craig Vechorik

Bench Mark Works has available engine crates. Learn to build your own here.